Today is Grady's First Birthday!
Has it really been a year?!
Grady is the missing piece to my life that I did not know I was missing!
Thank you, Dan!

Last week, we traveled down to Ocala, Florida to see my in-laws. While we were down there, we celebrated Grady's first birthday, Tyler's 16th birthday, and TJ's High School Graduation (TJ and Tyler are my nephews!).

Today, Grady has decided to go in his "Birthday Suit" until we go to Great Grandma Ginny's for a BBQ in Grady's honor!

Sunday is the BIG party! Friends and Family all together to eat cupcakes, play with squirt guns, blow bubbles and have as much fun as we can on the playground!

(TJ, Grady, and Tyler all waiting to dig into their cake!)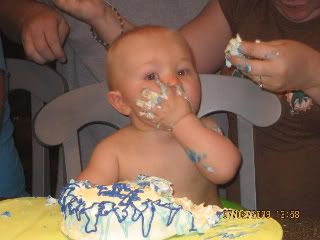 (Grady diggin into his cake!)